March 16, 2023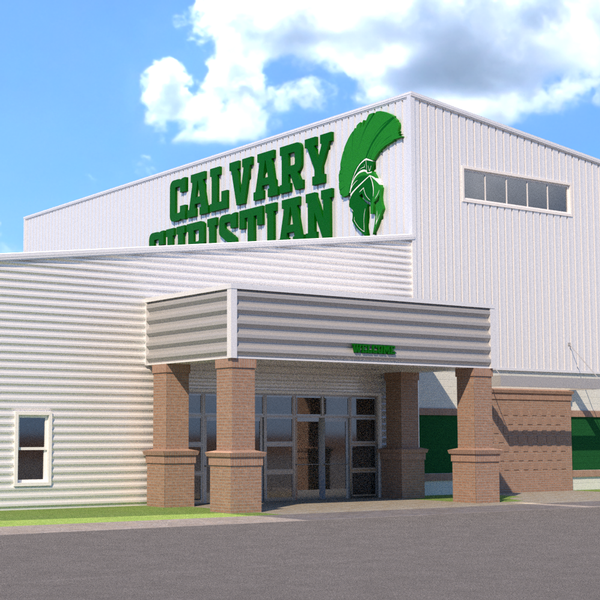 Building on the Rock Campaign Update
Hello Spartan Families and Friends! As we march towards spring break our minds begin to think about the warmer weather, summer break being just around the corner, and ultimately school returning in the fall. So how will things look both in the short and long term for our Calvary families? That's exactly what we'll discuss here so read on if you are curious!
Phase 1 Update + Thoughts
I'll start by telling you all that this first step in a new campus for Calvary families has provided so many "God stories" where it's amazing to sit back and reflect on our recent history and be in awe of what He has done. I'll share a few brief moments here and then talk about what we'll be doing over the summer with phase 1.
What got us here- I'll begin by saying our focus each day is working to improve what happens at CCS; this includes many things but to give some examples: we're always working to communicate and clarify our mission, be clear on who we are and what we do, make sure our actions/programs are in alignment with that mission, evaluate curriculum, improve programs, evaluate and improve the current family experience, teach our culture and work to maintain it, monitor our staff culture, and the list goes on. While that focus is never on growth, we do want to see as many kids as possible spend their 17,000 hours of K-12 education in a Christian environment. So as our enrollment has grown, we've had discussions on how to best grow a small school with it. The discussions about space though aren't new and didn't just begin a few years ago due to increased enrollment. For nearly a decade, we've had discussions with Calvary Baptist Church [TC1] because as the school has needed more space, it also meant the church was relinquishing areas of the building to allow the school to flourish. With space being limited at our Rush Ave facility (for two large ministries to operate in) our search for space kicked into high gear. Our early internal discussions revolved around renting modulars, renting local buildings, or renovating older buildings. We're thankful God protected us from those avenues! As we sit now, we can look back to see how God has blessed us as we have an independent organization that (thanks to Calvary Baptist Church) has nearly 40 acres of land, a location ready to build, utilities are ready, and our first building is already completed.[TC2] What an incredible upgrade from the modulars we were dreaming about!
What will happen next- We'll be targeting an area for our students to play in during recess. We plan to do more landscaping so students will have plenty of grass area next year to play in. We also have our first playground that we plan to install soon (our phase 2 plan will provide another playground. We've submitted a grant for the 2nd playground project and hope to receive funding). We also plan to put a wall between the double classrooms this summer to provide the space for another 3rd grade classroom next year. That will necessitate a change in 1st-3rd grade specials. We have a few options to relocate those classes, as the whole master schedule comes together this spring, we'll be able to pick the option that logistically makes the most sense. We also know that we have one more year of cafeteria disruption. We currently rotate which classes eat in the double room and we can do some rotating next year (with one other open room) but we'll be pleased when the new cafeteria opens in phase 2. Students at either campus will still be able to order hot lunch whenever they'd like. We do not expect significant changes at our Rush campus for the 23-24 school year.
Phase 2 Updates + Thoughts
Our vision for campus development has always included the entire school being relocated to our CR9 campus. With that being our goal, we're open to whatever strategies accomplish that in the best way possible. Our goal for the phase 2 building is to build a space that for the long term will serve our elementary and middle school population but design it in such a way that it's functional right now for everyone PreK-12th. This building is jam packed with amazing upgrades that Calvary students will be able to use for decades to come. Let's take a look at the floor layout, an early 3D rendering, and highlight a few areas.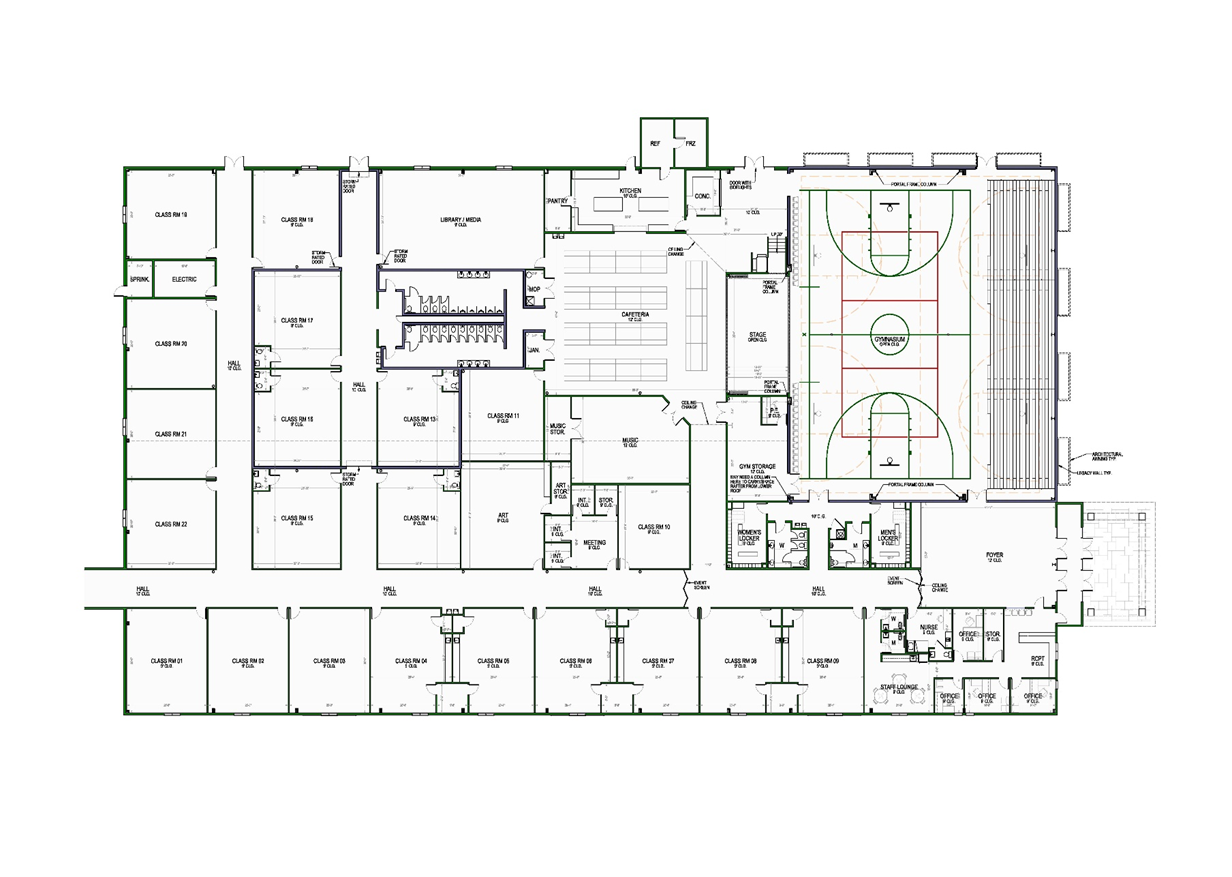 Highlights from the layout
Safety highlights
Visitors during the school day will enter the air lock doors and enter the building through the school office first. This will allow us to easily screen visitors and check them in before they have access to the entire building.
We still plan to utilize anchorman locking units like we currently do
Gym area
The court will feature a wood floor and is high school regulation size
Retractable bleachers creates additional space in gym when needed
For basketball practices, 2 courts will be able to run horizontally at the same time
For volleyball- includes a full ceiling height as well as multiple practice courts that can run simultaneously.
For events: a protective floor would allow us to add tables or chairs to increase seating capacity to 1,000 people
Locker rooms are accessible from the gym
Easy access to cafeteria/concessions area, primary bathrooms, and secondary bathrooms near locker room area
The stage
With folding walls, the stage can present to either the cafeteria or the gym side (we love that addition)
Stage would have sound equipment and would be used for chapel, assemblies, concerts, plays etc…
Close proximity to music storage provides easier setup for concerts
Cafeteria
Equipped to provide full lunch service
Large enough to only need 3 lunch periods
Provides a large space that can be used for other purposes such as study hall or large group meetings
To be compliant with food laws includes a separate concession stand which will be in use for school events
Easy access to primary bathrooms
Classroom Areas
Large media center/library area. Library will become a regular class for certain grade levels
1st-3rd grade classrooms at the bottom include a shared space. This can provide a quiet space for tutoring, make-up work, testing, or meetings.
Separate intervention area with a common area for tutoring as well as 3 tutoring rooms to help students that need to avoid distractions
Larger art room with attached storage area
K classrooms have their own bathroom and are located inside of the official storm shelter
Enough classrooms to provide two per grade level, as well as a potential expansion to include K3 program in the future.
Classrooms are larger than current Rush Ave. classrooms
Close proximity to phase 1 building, everyone connected without having to go outside
Phase 1 Expansion (not shown on drawing above but available)
Addition of 3 classrooms to phase 1 building which includes chemistry lab, junior high science lab, and one more general use classroom.
1 classroom from our phase 1 building will be used to create more admin offices to facilitate everyone moving to that campus
Funding the Phase 2 project
The total cost of the phase 2 project is estimated at 8.5 million dollars. That's a crazy number! While the scope of this project is massive, we know that our God is so much bigger than an 8.5 million dollar project. So with much planning, praying, and trusting we continue to take the next step (until and unless God says to stop!). I'll also stop here and say that this is a continual prayer request, that we're following God's leading, even when there's an intimidating price tag attached! We are so passionate about this school, but this isn't our school, it belongs to God. It's our job to be obedient and follow His will and we never want to confuse that with our own.
Out of the 8.5 million owed for phase 2, here's where we're at with financing this project
We are working through banks now to finalize a mortgage that would be for 6 million dollars. It appears our loan would be around 6.875% interest for at least the first 5 years of this loan.
we currently have 1.5 million designated through school budgeting and gifts/pledges
Our goal is to raise an additional 1 million by September 2024
*those wishing to donate can click this link to give online!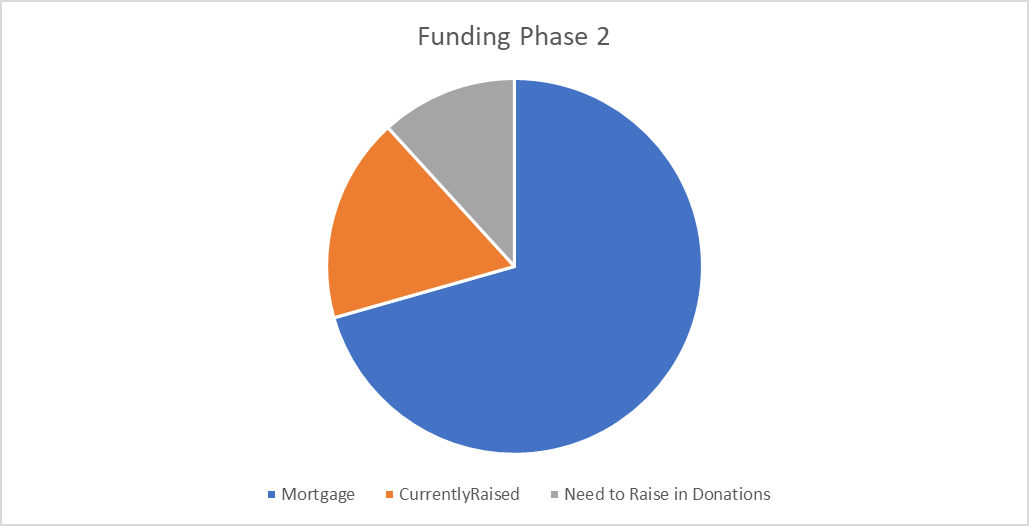 Phase 2 Timeline
Our "BHAG" (big hairy audacious goal) is to move into this building by the 2024-25 school year. The initial schedule shows what the construction process could look like. This will undoubtedly encounter some delays along the line but what we want to communicate is that we're working hard to move this process along!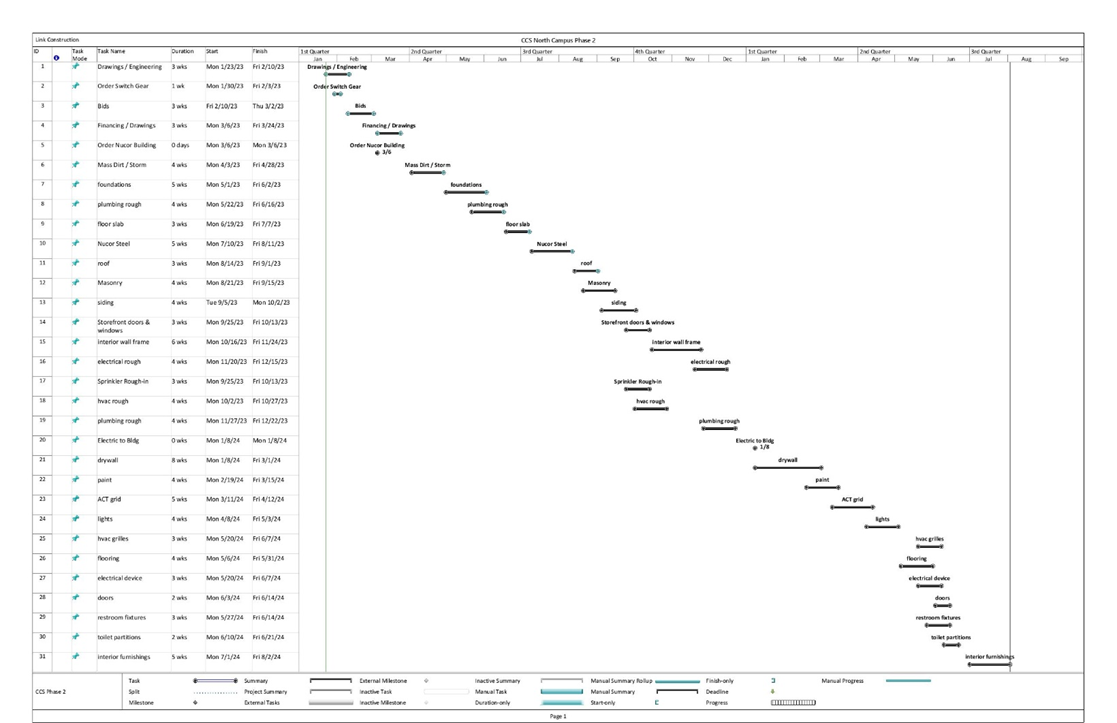 March 05, 2023
What is this ESM thing anyways?
During the week of March 13-17, a new CCS program called E.S.M (Enrichment.Service.Ministry) will kick off for the first time! Since everything about this is new, we wanted to write a brief article so everyone knows what this week is all about. While this obviously only affects our current 7th-12th grade students, this is something that will grow each year in our offerings so future students can plan and get ready to join in on the action in the coming years! We expect those who elect to take the trips may want to plan them out in advance, possibly years in advance!
Our goal for ESM week each year is to find ways for students to learn outside the normal classroom and experience, with hands on, what it means to participate in what God is doing in world. Students will receive a .25 credit for the unique experiences they are participating in for this week.
This year we have kids doing one of five "classes."
Mrs. LeCrone is taking 25 kids plus parents to Washington DC.
Mrs. LaBelle is taking 10 kids to a theatrical production at Sights and Sounds in PA.
Mr. Carter and Mr. Adams are leading 30 of our kids in service projects around the community which include a lot of work at Marmon Valley farms as they get ready for the camp season. Another day is spent at Camp Wesley. Normal school hours and the students will use the Calvary bus transportation.
Dr. Bragg orchestrates the Shadow and Practicums where kids are involved in career and ministry exploration and spend 30 hours or more in real life work situations followed up by a reflection essay.
Mr. Moore and a team of teachers are leading the Junior High in Relational Leadership which includes several fun activities with a focus on working together and becoming leaders. Also, normal school hours and the students use Calvary bus transportation.
The Relational Leadership does have an $80 fee that will be added to your FACTS Account to pay for activities at Marmon Valley Farm, Skating, Bowling, Youngs Dairy Farm, hiking, archery, and several low ropes course activities. Parents – we need the Marmon Valley forms (attached) sign and brought to school by next Thursday March 9th.
There is a newer federal program called ACE which will give families the opportunity to opt in (if you'd choose to) and you would potentially be eligible to receive up to $500 of reimbursements per child. Families under 300% of the federal poverty level will qualify (see chart below) School field trips (like this $80 experience) and activities would be eligible to be reimbursed through this program. You can visit the CCS app for more information on ACE, just look for the tile at the top when you open the app. We expect that next year this fund will raise to $1,000 per child so it has the potential to be very helpful. (we're working to get our afterschool care program included you can get reimbursed when you use our program). With the ACE program in our sights, next year's courses/trips are going to be even bigger and better! We are currently researching historical trips such as Washington DC and Boston, as well as international missions trips and a big, big trip that many parents might want to join – to Israel, the Holy Lands. We expect more details will be out soon on ESM 2024, our goal is to have information to families in late April/ early May and allow students to make their selections for next years ESM week before we head to summer break.
Just as a note – the final day of ESM – Friday March 17th is also Grandparents Day for kids in K4 through 4th grade. And then after that Spring Break! The year is flying by! Thanks for being a part of The Calvary culture. Exciting days ahead!
Dr. Bragg + Mr. Hyde
Read on below if you want to learn a little more about the "ACE" program that was mentioned.
----------------------------------------------------------------------------
What is ACE?
Program Overview
The ACE Educational Savings Account program provides qualifying families with a $500 credit that can be used to pay for a variety of enrichment activities that will accelerate learning for students impacted by the COVID-19 pandemic. These funds can be used for:
Before- or after-school educational programs;
​Day camps, including camps for academics, music and arts;
Fees for learning extension centers;
The purchase of curriculum and material for home-school families;
Educational, learning or study skills services;
Field trips to historical landmarks, museums, science centers and theaters – including admission, exhibit and program fees;
Language classes;
Musical instrument lessons;
Tutoring.
Which Students Qualify?
The ACE Educational Savings Account program is available to any student between the ages of 6 and 18 years old whose family income is at or below 300% of the federal poverty level. Qualifying children include those who attend any Ohio public or nonpublic school or are home educated by their parents and have been excused from the compulsory attendance law for the purpose of home instruction. An eligible student can be enrolled in a public or nonpublic school or has been excused from compulsory attendance law for the purpose of home instruction.

300% Income Levels to Qualify based on household size
43,740
59,160
74,580
90,000
105,420
120,840
136,260
151,680